Community
Engagement
We share diverse personal narratives that build bridges of understanding.
"I've been homeless for a number of years, so I sleep down here a lot. Sometimes I feel more comfortable being down here as opposed to staying at a shelter. There you have to deal with everybody else's struggles and problems. But if I come down here, its calming and peaceful. I'm connected with myself.

I was born in St. Paul. That's where I went through all my foster homes. One day when I was twelve, the foster home I had been in for seven years told me my mom and dad were coming to get me. I was so excited. But then it was some white people who showed up. I didn't know it wasn't my birth parents coming until that exact moment. Thirty minutes later, I left with them.

My whole life changed. They took me to Biwabik, Minnesota where there's no black people. My name was changed to something totally different from what I was born with. I couldn't remember my new name at school, so I was a dumb [n-word]. It was awful. Just a lot of negative experiences. But I learned a lot of skills. I learned how to chop wood.

I write children's stories because as a child who was in the foster care system and then being adopted by white folks made me think about other children's struggles because I've been there. So I write positive material that's based on exactly what they're going through. My dream is to get my stories published and out there. That's important to me. I could affect the feelings of children who are going through what I went through or are facing what I went through, so that they can change their situation."
"I'm from Laos. My husband was a respected Hmong leader. He fought against the Vietnamese army alongside the Americans. I was a soldier too, for three years, until I got pregnant. There was so much bloodshed. In 1975, we fled to Thailand to stay in a refugee camp. We were very poor. We were eating rice with water and salt. We couldn't leave the camp. If we did, the Thai people would arrest us.

My husband would have meetings in the camp with Thai leaders and they'd bring their wives. In between meetings, I would serve them. But we didn't have the money to provide them with a proper meal. I hand-sewed traditional Hmong tapestries and started selling them to the wives. I saved the money I earned so that I could buy food to properly serve them. They loved me a lot. I became known as a Hmong tapestry specialist.

There was a pastor from America named David who visited the camp. He loved me so much. He started ordering my tapestries. Then he asked me to recruit ten more women who could sew. Many wanted the work, but he only allowed me to hire women who couldn't make ends meet and were suffering. I started taking his orders and assigning them to the women. I would give them the money for each cloth they'd sewn. I became a leader in the village by distributing the work and the money.

In 1993, Thailand closed the camp and we were allowed to come to the United States. We could have resided in St. Paul or Brooklyn Park, but my husband chose Minneapolis. He always had a mission to do good deeds and he remained active in the community. We have a lot of friends here. We also have four daughters, six sons, and forty grandkids. My husband passed away in September.

Having this garden makes me feel connected. It's organic, I don't fertilize it. It's good exercise for me. I can have food to eat and my children can come pick from the garden and visit me, too.

I'm so thankful and blessed. People say that when they die they will go to heaven. My heaven is here."
Chief Petty Officer, Navy Seabees
"I was in high school and I saw Top Gun and I wanted to fly those fighter planes. So I went down to my Navy recruiter. They said, 'Well, you don't start out flying the planes. You've gotta do something else.' They asked me what I liked to do and I said, 'Construction. Building things fascinates me.' They said, 'We've got a job for you.' And the rest is history.

I've been all over the world. I've seen a lot of great places. I've seen a lot of horrible places. But there's nothing like going out and seeing how everyone else lives. Interacting with people and getting that intimate experience that you can only get by being completely immersed somewhere. I find that fascinating.

You really learn how to work with people and respect other people because you're so closely integrated. Close living conditions, stress, things like that. It's another family. And it's certainly challenging but very rewarding.

There are some things that you can never explain or share with people. They have to experience it themselves. Whether that's combat experience, or just the grind of being in the military. It's sixteen hour days. If you're deployed, it's day-in-day-out. There's no days off."

"What does 'service' mean to you?"

"It's dropping everything that you're doing in your life, whether it's a marriage or children or a business or schooling, to go and do your mission. To me, that's the sacrifice of service. It's the complete interruption of your lifestyle so that you can go and do your job and hopefully help other people. Try and make the world a better place."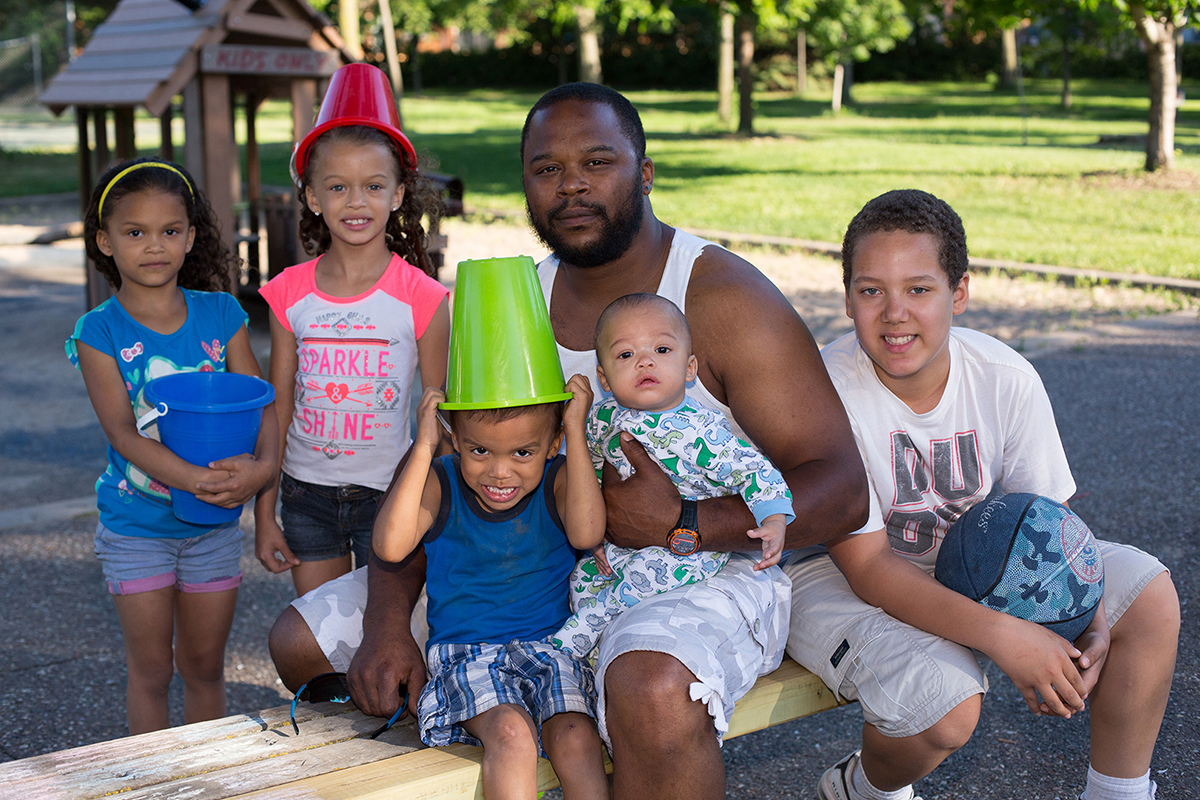 with Zaria, Serenity, Herbert III, Prince Herbert, & Sulaiman
"When I grew up, my dad was around, but he wasn't around. So I want them to know dad is there and that I care for them. Especially so my girls know the right type of man to look at when they grow up to be women. They won't choose the wrong type of person because dad wasn't around to show them the right type.

I want to play a part in teaching them the things they need to know when they grow up. What people to stay away from; to help when you can help. Just love. And I want them to pay it forward. The way daddy is with you, pay it forward. Teach that to somebody else. If you teach one person good, the world can change.

The time that we do have together, we try to make the most of it. I like to show my children how much I love them and that I wanted them, so that's why we spend our time like we do."
"I was very depressed when I was younger. And within the last couple years I was diagnosed bi-polar. At first you don't really wanna believe it and you kind of ignore it. But slowly I kind of accepted it, and so I've been working on it. I try to appreciate that I am bi-polar. I feel deeper emotions than a lot of people do, and so I think that I experience certain situations more than other people do. The highs and lows. And I appreciate my lows at times, but you kind of have to. You learn more from your lows than you do your highs.

At times I felt like I was crazy and that people didn't take me seriously. People don't understand that there are a lot of people out there in the world with these issues. There's anxiety, bi-polar, depression. And then other things come into play, like alcoholism and things like that. With mental illness, the more things that you mix into the picture, the more you're not gonna get better. And it's something that you can't help. It runs in my family and I'm the one kid that got it.

I ran out of insurance recently. My one prescription is $250. You lose it within a week of being off of them, and that's when people become suicidal. We're not crazy. We just need help."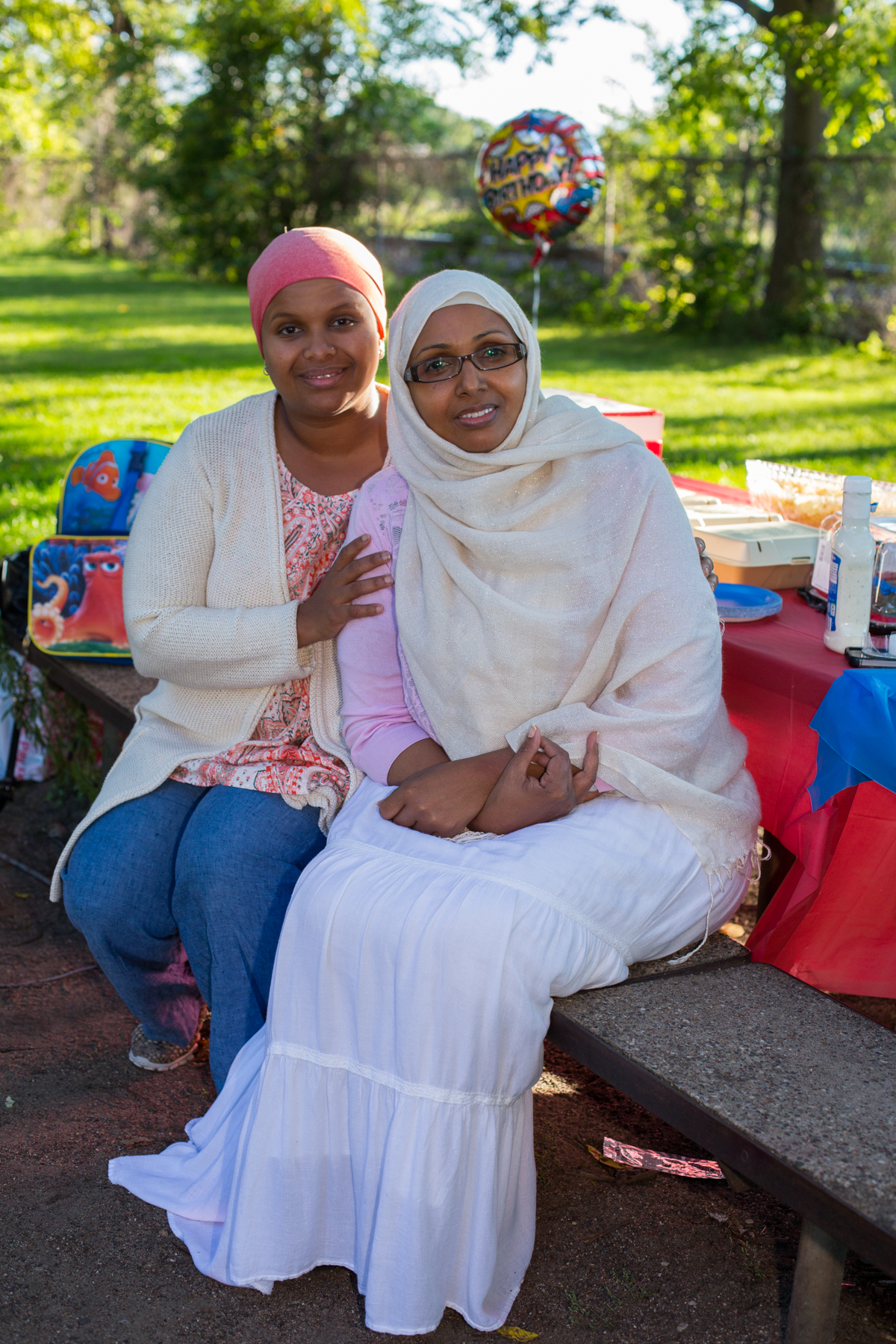 with her stepmother Samiya, right
"I was born in Somalia and all my siblings were born in Canada. I got married and moved to Memphis for ten years right after college. My family was still in Canada. Then we all came to Minneapolis to be closer together. It's been about a year.

I love Minneapolis. I like that there's a huge outdoor life despite the weather. I like that there are parks in close proximity to anywhere you are. And I like that there's a huge Somali community. You're not just out there by yourself. It reminds me of home. I can go to the Somali mall and there are familiar scents and smells. There are people in stalls and they're yelling and bartering. Before that, the only home cooking I was getting was from my stepmom, but now I can go out and there are a huge number of restaurants I can pick from. Or I can go to a coffee shop and there are other Somalis to talk politics and religion with. You just relate to each other. Do you know what I mean? People that know where you're coming from and understand you're situation without you always having to explain.

Here you're not an anomaly; you're not a curiosity. People aren't approaching you from that sense. You're family, you're familiar. You're safe. As a Muslim woman, as a black woman, and as a Somali woman, there are all these intersections. But here I feel like all those intersections are accepted in my community. I can be myself. I feel welcome.

People see all these Somali women just walking around. For me, I see all their strength and beauty. My stepmom is a pinnacle of strength and she kept our family together. I see all these beautiful women and I think of her and that's what I emulate. And I'm glad I'm in a community where I can show my daughter what it's like where I come from and share our stories. And there are beautiful role models right here for her."